Bauchi State Governor, Bala Muhammed, says his state is trying a different approach from imposition of "total lockdown" because he is convinced that this extreme measure will cause more harm than good.
"I have always maintained that total lockdown is not a solution," he said in a recorded speech.
In place of strict lockdown, he proposed "community consciousness, community efforts, and professionalism of health workers in terms of search, contact, and testing " to manage spread of the virus.
To help this approach, he promised and delivered a molecular testing laboratory in Bauchi which he says is capable of ramping up to 1000 tests per day.
The Governor, who is himself a Covid19 survivor, has said his major worry is the devastation that the pandemic has wrought now and will continue to cause to the State post-Covid19.
His solutions to the challenge were therefore to establish the infrastructure to ramp up virus testing while constituting a team of economic experts to think through the challenge and advise on what the state must do to surmount the economic challenges of the Coronavirus.
The first testing laboratory was set up with support from the North East Development Commission (NEDC) and wealthy citizens from the State.
The Nigerian Centre for Disease Control (NCDC) commissioned the laboratory yesterday, 30 May 2020.
The Governor is pursuing what he considers a more pragmatic approach which includes putting the infrastructure to achieve 1,000 tests per day and thinking through how the economy of the State will survive, both now and post-Covid19.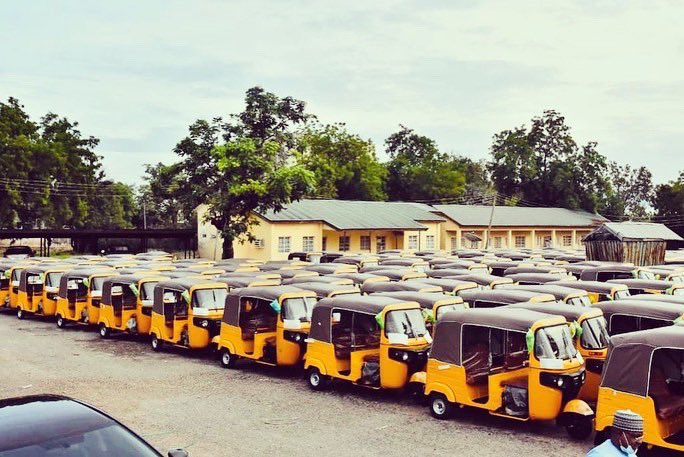 To promote social distancing, he banned commercial motor bikes, called "achaba" in the North and okada in the South.
In its place, he promised to introduce 1,000 tricycles as the major form of transportation in the State, out of which 350 have been delivered in the first batch .
The State COVID19 Economic Recovery Committee that he set up under the leadership of Dr. Aminu Gamawa, the State Commissioner for Economic Planning and Budget, has submitted a report on what the State can do to cushion present and future economic shocks.
Dr. Gamawa, head of the Committee, said at the presentation ceremony that they consulted widely and proposed elaborate measures to support MSMEs to thrive in Bauchi State.
He also said it helped that members and leaders from this sector were members of the Committee, including "traders, manufacturers and businessmen."