It does appear that no leader has been found to succeed Chief Nnia Nwodo as President of Ohaneze Ndigbo as Imo aspirants tackle Iwuanyanwu on choice of Prof. George Obiozor.
This is because the choice of Prof. George Obiozor as Imo "consensus candidate" has not gone down well with other aspiratnts.
Nwodo's tenure ends on 9 January 2021, less than two months away.
---
Elders pick George Obiozor
---
Six aspirants reject choice
---
---
Profile of seven frontrunners
---
Seven persons have been campaigning for the position until yesterday when a group of elders gathered at Government House Owerri to dash the hopes of six.
The seven aspirants include former Governor Ikeddy Ohakim, Professors George Obiozor, Ukachukwu Awuzie, and Nnaemeka Obiaraeri, Dr. Joe Nworgu, and Chiefs Chris Asoluka and Goddy Uwazurike (See profiles below).
The Imo elders, led by Chief Emmanuel Iwuanyanwu, announced Prof. George Obiozor, a scholar and veteran diplomat, as Imo "consensus candidate" to succeed Nwodo.
The remaining six promptly mounted opposition to the "imposition" saying it will not succeed because Ohaneze Constitution does not recognise "consensus candidacy."
Iwuanyanwu said at the presentation, attended by Governor Hope Uzodimma, that a cross section of 200 Imo leaders came together to endorse Obiozor for the position.
In his speech, Gov. Uzodimma described Obiozor's emergence as "the decision of the Imo State Chapter of Ohaneze."
"I was taken unawares by their actions (and) I had no choice but to follow their path," he told the elders as he welcomed the choice because "Obiozor is eminently qualified."
Obiozor's adoption, the Governor said, comes at a "critical time in the history of Ndigbo," and he urged him to seek justice for his people "not by confrontation but by persuasion."
"Our tomorrow is still bright," he concluded.
The presidency of Ohaneze has been zoned to Imo State, based on a rotation arrangement among seven Nigerian states with significant Igbo-speaking populations. The States are Abia, Anambra, Delta, Ebonyi, Enugu, Imo and Rivers States.
Aspirants tackle Iwuanyanwu
Frontrunners for the position publicly pooh-poohed the choice of Obiozor as it violates the Constitution and selection process (see the Selection Process below.)
According to Dr. Joe Nworgu, former Ohaneze Secretary-General, the Constitution mandates that three candidates stand for election, to be voted for by delegates at a National General Assembly.
Dr. Asoluka said that the elders' can select whoever they want but their choice "neither binds the election committee nor determines who is eligible to contest the forthcoming elections."
Asoluka is a two-time member of Ohaneze selection committee, serving in that position in 2012 and 2016 and his statement echoes his experience as an electoral panel member.
He quoted Article 11 (b) of the Constitution to back his assertion, as follows:
"The President-General shall be elected by the National General Assembly from all interested candidates from the State which turn it is to fill the office, provided there are at least three candidates."
Most of the aspirants said they were not worried about the elders' political moves because this has been recurring.
"They tried it without success in Imo and Ebonyi before now."
Other stakeholders have weighed in, accusing the Nwodo-led executive of working with Imo elders to narrow the candidate field, a charge that Nwodo hotly contested.
Ohaneze Youth Council, for instance, has alleged that the idea of Obiozor as consensus candidate is calculated to halt the ambition of Dr. Joe Nworgu and Chief Goddy Uwazurike.
The Ohaneze Electoral Process
The plan to swear in an electoral committee last Friday 20 November was shelved as a result of the controversy surrounding the elections.
In its place, the Ime-Obi plans to meet on 6 December to iron out issues dragging the election of a new executive in January.
The Ime-Obi which is the highest decision-making body of the association will meet to appoint an electoral committee to supervise the election.
Members of the Electoral Committee will begin sitting to outline and present guidelines for the conduct of the election to the Ime-Obi for sign-off
The positions are advertised, after which aspirants buy forms and submit themselves to be screened by the Electoral Committee
Aspirants who survive the screening panel are published as candidates for the election.
The National General Assembly is thereafter convened to vote for candidates
Profile of Frontrunners
The Imo State candidate who succeeds Nnia Nwodo as Ohaneze leader will be chosen from a line-up of 7 frontrunners.
The seven – all from Imo State to which the position has been zoned – are united by their social activism but come from different professional backgrounds.
Collectively, they have backgrounds in political science, law, environmental engineering, and management.
Here below are the frontrunners, presented in alphabetical order of their surnames.
Dr. Chris Asoluka from Ihiagwa-Iga in Owerri West is a political scientist, consultant and administrator. He was trained at the University of Ibadan and Lagos in Nigeria, and at the University of London. Asoluka has degrees in political science and law although he does not practice as a lawyer. He worked at the Nigerian Ports Authority, News Agency of Nigeria and Nigerian Customs service before branching out to consult for private and public sector MDAs.
Asoluka is former president of the Igbo Professionals Group, Aka-Ikenga, former vice president of Ohaneze Imo, and current co-chair of South-East South-South Professionals (SESSP). He served in the 2012 and 2016 Ohaneze Electoral Committees. Asoluka is one of two candidates that will most likely be favoured by Igbo professionals, the other being Chief Goddy Uwazurike.
Prof. Ukachukwu Aloysius Awuzie from Umuzike, Orlu, is a brilliant scholar and fellow of the Nigerian institute of Architects. He is reputed as the first professor of landscape architecture in Nigeria. Awuzie attained the zenith of his academic and administrative excellence when he was appointed Vice Chancellor of the Imo State University. He trained at the University of Nigeria, Enugu Campus (he read Architecture) and the University of Massachusetts, Amherst (Landscape Architecture). His life as an activist began at the Imo State University where he served the Academic Staff Union of Universities (ASUU) as chairman of Imo State University Branch, National Financial Secretary, and finally, President of national ASUU from 2008 to 2012. He is also a member of the Nigeria Labour Congress and served as chairman of its Constitutional Review Committee in 2011.
Dr. Joe Nworgu, from Ngor Okpala, is a renowned Enugu-based estate surveyor. He was educated at the world-famous University of Cambridge and holds a doctorate degree in estate surveying. In his public service career, he rose to the position of director in charge of Estate and Quartering at the Federal Capital Development Authority (FCDA) Abuja. Nworgu was a delegate to the 2014 National Confab organized by President Goodluck Jonathan. He is also an Ohaneze insider being a statutory member of the Ime-Obi. Nworgu has paid his dues in Ohaneze, having served as its deputy and later Secretary General (2013-2017). He served in other capacities as Secretary of Planning and Strategy Committee as well as six-time chairman of national organizing committee for World Igbo Day. Joe Nworgu is an active player in Ohaneze and may upstage every other candidate through his network of contacts among potential delegates who will vote.
Prof. Nnaemeka Onyeka Obiaraeri from Amagu Ihube Okigwe is an accomplished lawyer, law teacher and legal practitioner. A first class law graduate of Imo State University Okigwe (now Abia Stare University Uturu), he has had extensive experience as a legal practitioner, law lecturer, international legal scholar, human rights activist and politician. He served as political appointee to three different administrations in his native state (Achike Udenwa, Ikeddy Ohakim, and Rochas Okorocha) rising to position of commissioner (Youth & Sports as well as Lands, Survey & Urban Planning). In academia, he was a former coordinator, former head of department and former dean of the Faculty of Law of Imo State University, while maintaining his law chambers, Obiaraeri, Obiaraeri, Obiaraeri & Co. He is also a former legal adviser of Ohaneze.
Prof. George Obiozor (78) from Oru in Awo-Omammais a former academic, a public servant and a diplomat. After a diploma programme in Switzerland, Obiozor headed to the United States where he earned degrees in political science, international law and international affairs at University of South Tacoma, Washington, and at Columbia where he concluded his master and doctorate degrees. He taught briefly in the US before returning to Nigeria to a string of public sector professional and political appointments. Obiozor served as Nigeria's Ambassador to the United States, Israel and Cyrus, and was also Director-General of the Nigeria Institute of International Affairs. He coordinated the 2014 National Conference for President Goodluck Jonathan. He is being presented as "Consensus candidate" by a group of Imo elders, led by Chief Emmanuel Iwuanyanwu and with the blessing of Governor Hope Uzodimma.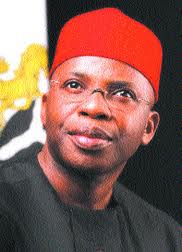 Ikeddy Ohakim (63), from Okohia, Isiala Mbano is a businessman who got elected and served as Governor of Imo State between 2007 and 2011. He graduated from the University of Lagos with a bachelor degree in Business Administration. He worked in a number of private sector companies before setting up the Mekalog Group, an engineering firm that supplies defence, security, construction and fabrication equipment and tools to the oil and gas sector. A founding member of the Peoples Democratic Party in Imo State, Ohakim served as Commissioner to Gov. Evan Enwerem. He decamped to the Progressive Peoples Alliance (PPA) which gave him the ticket to win the Imo State Governorship election in 2017 but returned to the PDP two years later. He is said to have been positioned for the Ohaneze role by deposed Gov. Emeka Ihedioha, which means that the Supreme Court debacle may have thrown a hammer to his aspirations. The current governor has endorsed someone else.
Goddy Uwazurike from Ikina, Ehime-Mbano, is a lawyer and head of chambers of Uwazurike Associates. He self-describes as a barrister, solicitor, intellectual rights advocate, and human rights practitioner. Uwazurike received his education at the University of Nigeria, Enugu Campus and the Imo State University. He is NOT to be confused with Ralph Uwazurike, leader of the Movement for the Actualisation of the Sovereign State of Biafra (MASSOB), a separatist group fighting for the restoration of the defeated and defunct Republic of Biafra. Goddy Uwazurike counts as a respected professional and one-time leader of Aka Ikenga, the think tank which sometimes acts as intellectual arm of Ohaneze. He has the support of elder statesmen such as Prof. Fabian Osuji. In addition, Uwazurike is one of the two candidates that will most likely get the endorsement of Igbo professionals, the other being Chris Asoluka.