Chido Nwakanma
There is more to flavour beyond the N'abania – and it is in his taste and appeal, as Chido Nwakanma discovers in this Sunday's exposition. Enjoy.
---
Flavour is a commercial and business success. He has tapped into two emotional chords of women and religion. He combines well with other artists to deliver studio albums or live performances. He understands stagecraft.
Music by a cohort of young Nigerian artists has become a cultural export across Africa and the Black world and recently became a global phenomenon. Nigerian music is the rave winning international awards. Flavour N'abania is one of the young men contributing to Nigeria's cultural diplomacy with a trove of hits.
The mix of English and Igbo in his songs draws audiences. I felt the flavour in Freetown, Sierra Leone, a city with a vast mix of people who speak or answer to Igbo, Yoruba, and Hausa names and thus dance to our music. Videos show the immense crowds that welcomed him to Yaounde, Cameroon and other African capitals.
Chinedu Izuchukwu Okoli is the given name of the outstanding musician born on 23 November 1983. He is an 042 (Enugu) boy with origins in Umunze, Orumba North LGA, Anambra State. Flavour is a singer, songwriter, multi-instrumentalist. Chinedu began his career as a drummer for a church in Enugu.
He became known for his compositions and old favourite tunes to create contemporary hits. He gained fame and notoriety for his Nwa Baby (Ashawo Remix) hit. That track defines his trajectory of skirting the borderline of decency and provocation yet gaining the affection and passion of those concerned.
Flavour is one of the few current musicians trained in his craft, and it shows. He learned instrumentation and can play the drums, piano, and guitar. For years, he was a session man for other artists, honing his playing, singing, and dancing craft.
Flavour came to his own in 2005 with his debut album N'Abania. His second album, Uplifted, announced his presence. That album contained Nwa Baby, Oyi na tum, and Adamma. "The album's success made Flavour one of the most sought artists", his Wikipedia entry proclaims. People booked him to perform at numerous concerts and social events.
His next album, Blessed, established that a true artist with highlife as his base has indeed arrived.
Flavour released Blessed in 2012. The album had 18 songs. It featured guest appearances by Wizboy and Fally Pupa while Masterkraft, Wizzboy, Selebobo, MJay, DelB, J Stunt and Dekunzy handled production. Outstanding entries were Ikworikwo, Baby Oku, Shake, Chinny Baby and Ada Ada. I will add To Be A Man.
Flavour released seven albums by 2020. He has been at the peak of his youthfulness in his 20s and 30s in the last 17 years. His age reflects in his themes as issues of concern to that demographic. However, he manages to cut across to an older generation who relive their youth vicariously through his music, thus guaranteeing a cross-generational appeal.
The themes of Flavour's music came out clearly in Blessed. His themes are relationships, appreciation of women, gender wars, and appeal to patriarchy. Over the years he added praise and worship songs.
Significantly, his music scores highly in tonality or the overall sound of the music as pleasant or unpleasant. Music pundits will then rate him on rhythm, dynamics, melody, harmony, texture, and form. There is also the timbre of the sound from his instruments. The melody of most of his tunes is conjunct, meaning smooth and easy to sing or play.
Fans hail Chinedu Okoli with the cognomens Mr Flavour, Ijele, and instructively, Palliative Umu Ashawo.
The Hit Songs
Here is a look at some of his songs.
Ada Ada: The official wedding song of the country and probably even the whole of Africa. Through the lyrics, even male listeners can feel the excitement of a new bride about to head out to her waiting husband and an audience of hundreds, to whom she is the centre of attention. Good videography embellished the song.
Virtuous Woman extols the virtues of a good/Godly woman. It is the banner for women who picture themselves in its image. Notable lyrics include "Imamma ya bu agwa ya. (Her beauty is in her character). Ngozi Chukwu bu nke ya (God's blessings are hers). She is a virtuous woman. Maka na ezi nwanyi di uko, oh, yeah (Because good women are scarce).
Ololufe (with Chidinma), Nwa Baby, Oyi (remixed with Tiwa Savage), and Shake add to the list. In Shake, as well as Uru Dia (Shake2), he encourages women to wiggle skilfully on their backsides.
The mid-tempo Chinny Baby speaks to love. Knowing your music, Chinny Baby reminds of Waiting in Vain that Bob Marley wrote supposedly for Miss Jamaica. It is poetic as he asks, "Are you coming in June or July, Or Do I have to wait till November or December? Chinny Baby, when are you coming?" The song tells of a man eager for the love of his woman who is either far away or is not ready yet for a deeper connection. He pleads for certainty and reassurance.
Other hits include Baby Oku, Ife m neri, Sweet Tomatoes, Ikwokrikwo and Pant no niro. Many tracks are religious. They include Most High, No One Like You, Chimamanda, Keneya. His tribute to motherhood, in collaboration with Chidinma, is in Mama. There are explicit party/fun tracks. He collaborates in Ijele with Zoro and Phyno and in Awele with Umu Obiligbo.
Men readily relate with To Be a Man that humorously recounts and celebrates the journey to becoming. He sings that the man carries many burdens: he must marry, take care of his wife and children, his parents, in-laws, and his girlfriend. The inclusion of his girlfriend is a sociological commentary that asserts extra-marital affairs as matter-of-fact. To Be a Man speaks to the struggles of the men of his ethnic stock who travel to Ghana, Togo, Congo, London, Europe, China, USA, Malaysia, Brazil, wherever, to make headway and meet their obligations. Despite these struggles, the artist requests the Creator to send him back as a man when he reincarnates! To be a man is not a day's job, indeed.
Classic FM 97.3 in Lagos deploys To Be a Man as the signature tune for its male magazine programme.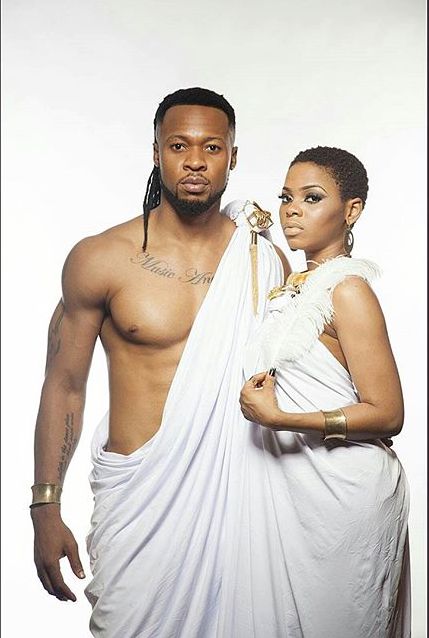 Women are the calling card of Flavour's music. He celebrates women, praises them and uses figurative expressions that speak to their sense of self. His metaphor for the female gender revolves around edibles. Nka bu ifem n'eri (what I consume) appears in "Ifem Neri". Common words are jollof rice or Tomato Jos. Then he speaks to the physical attributes of his women, emphasising their backsides.
Women love Flavour and endorse his use of those terms as an endearment. Nature and nurture combined to make Flavour the kind of specimen women love. He is tall, handsome, muscular yet lithe and sexy with his movement. I posed questions about it, and seven of ten women felt he was on the right path, with only a few quarrelling with his objectification.
Flavour is a commercial and business success. He has tapped into two emotional chords of women and religion. He combines well with other artists to deliver studio albums or live performances. He understands stagecraft.
Different tastes for his musical oeuvre
Clara Chinwe Okoro, president of the Brand Journalists Association of Nigeria: "I believe in art. The objectification argument is lost. It's merely an artistic sense of comparison that may even pass off as complimentary"
Atim Nkpubre, Lead Consultant, David & Destiny Consulting. "I consider it a metaphor that pays tribute to the beauty, allure, and delicate essence of women. Through the ages, women have been compared to a countless number of things such as a rose 🌹, Ruby, jewel and such likes."
Nkechi Ali-Balogun, a Fellow and Council member of the Nigerian Institute of Public Relations, responded, "My brother, I am not into Flavour. One of the reasons is that I can't seem to place him. At one point, he wants to be a gospel singer; he is highly worldly at other times.
"The only thing I know and admire is his humanity.
"There are many succulent parts to a woman. He uses tomato as a metaphor to show that the woman is juicy and beautiful. I felt it is one of the best things you can use to describe a woman".
Akunna Chisim: "I am not particularly a fan of Flavour, but I can understand why the many women who love him do. Flavour is easy to love, despite his blatant objectification and description of women as food items. He always finds a way to fit in other things in his lyrics. He has a song titled "Virtuous Woman". He also has several pieces used by brides to step out during their traditional wedding appearance. It creates an emotional connection with the artiste – Flavour- and the women overlook the would-have-been annoying parts of his songs."
Taste and appeal of Flavour beyond N'abania
Flavour is unmarried at 38. He has two daughters from two relationships and the blind Liberian boy that he adopted. The lad sings with him.
Flavour is a commercial and business success. He has tapped into two emotional chords of women and religion. He combines well with other artists to deliver studio albums or live performances. He understands stagecraft.
His sing-along tracks with Semah evinces humanity and compassion. Their tracks include Most High, No One Like You and Mercy.
His recent appearances include the upbeat Doings and the follow-up Levels collabo featuring similarly successful stars such as Kcee, Larry Gaaga, Phyno, Onyenze, Umu Obiligbo and Zoro. The Levels track celebrates lavish even obscene displays of wealth of no known provenance. Accomplishment is part of the Igbo DNA but in what manner? Success invests Flavour with a voice and influence. What values will he promote?
Friend, what is your Flavour of choice?